Throwback Thursday – Night Night
***
This week Maggie asks us about our nighttime rituals. Thanks, Maggie! 🙂
***
https://fromcavewalls.wordpress.com/2022/06/30/throwback-thursday-45-nighttime-rituals/
***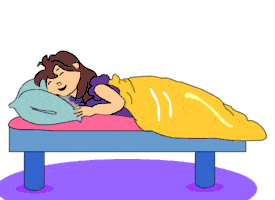 This week's prompt is: Nighttime Rituals
Did you share a room with a sibling, or did you have a room of your own?
Did you resist going to bed or did you go willingly?
Did someone put you to bed, tuck you in, or read you a bedtime story?
Was there a religious component, like prayers, to your nighttime routine?
Did you go to sleep immediately, or lie awake?
Did you journal, read a book, talk on the phone or with your siblings, or watch television when you were supposed to be sleeping?
Did you ever sleepwalk?
Did you remember having dreams? If you dreamed, did you ever have bad dreams? Do you remember any dreams specifically?
Were you afraid of the dark? Did you sleep with a nightlight or sneak into your sibling's or parent's room at night because you were afraid?
Did you have or attend sleepovers or slumber parties? Feel free to elaborate.
My answers:
1. I had a bedroom of my own, and my sister had her own.
2. I don't remember ever fussing about going to bed. As far as I can remember we didn't have a set bedtime.
3. No, well I can't remember when I was very little, but I don't remember any of that from any time.
4. Not really as a formal thing. I did say a little prayer to myself every night, though. (Now I lay me down to sleep … ) that one.
5. I mostly stayed awake as long as I could after going to bed.
6. I did not read after lights out (until way later on). I did spend time thinking up stories to write for the next day. I also had a transistor radio I'd listen to. It's amazing what far away stations you can hear way late at night.
7. No, I never sleep walked.
8. I had all kinds of dreams, some scary, some funny. I'd wake myself up either crying or laughing out loud. I most times would write down all I could remember. I have many 'dream' journals I've kept, or just pieces of paper I'd write them on the next day. I've had repeating dreams a lot of times, too.
9. I've never been afraid of the dark. I love nighttime! I'd never go running afraid into my parents or sister's bedroom. What I would do is sneak out into the darkness! 🙂 🙂 That was the most fun. I'd mostly be looking at the stars and hoping to see a UFO!
10. I went to friend's slumber parties a few times. I had one at my house when I was in 6th grade, and there were a bunch of us girls. We stayed up all night. At one point a group of boys came by – but they didn't stay long.  hee hee! Next morning we all went down into the cellar and ate breakfast. We thought it was fun for some reason. My slumber party was talked about for months after that, as one of the best.
***
Thanks for visiting! Peace ☮️
© 2022 BS