Fibbing Friday
This weekly challenge presents some questions that we are to give wrong answer to. It's all in fun.
To join in this weekly challenge, and see other entries, just click the link below:
https://pensitivity101.wordpress.com/2021/11/26/fibbing-friday-26th-november/
***
1. What is rolling stock  … It describes what happens in certain car racing venues like Stock Car Racing. They all roll around the track.
2. What is a rolling deck …This is what happens in Vegas at the gaming tables. They 'roll' or change to a new deck of cards after each game.
3. What is role play … haha! When you have a food fight at the table and throw the yeast rolls at each other.
4. What is 'on a roll' … A lot of things can be on a bread roll – hamburger meat, deli meat, cheese, vegetables, pretty much anything you want to put on a roll.
5. What does a rolling stone gather? … A Rolling Stone gathers a lot of money.
6. What is a rolling boil … It's the latest dance – you start out moving slow, and then it gets faster with the music.
7. What is a rolling pin … This is a shiny piece of jewelry you wear on your lapel or shirt.
8. What is a steam roller … It's what they used to call a steam iron for pressing clothes.
9. What is a roller coaster … A little wagon that kids play with on the sidewalk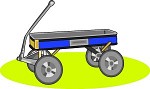 10. What is a roller skate … A sea creature – a skate – and the underwater maneuvers he performs by rolling his fins.
***
Thanks for visiting! Peace ☮️
© 2021 BS