Share Your World
https://sparksfromacombustiblemind.com/2021/10/25/share-your-world-10-25-2021/
***
Name something you wouldn't want to run into in a dark forest or in an abandoned building  (yeah it's a retread.  But there are new participants to SYW too who probably never answered it) … I'd hate to see a fish in either of these places. It would be pretty improbable, though. So I'd say an axe murderer. Still, I'd take my chances with the murderer than with the fish. I could at least run away, or limp or hobble away since I don't do running, or talk him out of killing me. With the fish, I'd just immediately die on the spot I'd be so scared.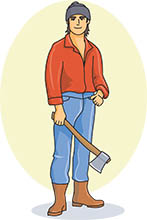 Do you believe in multiple dimensions or worlds? … Yes
Would you ever go to a graveyard at night? … Yes
What is the most frightening book you've ever read? … "The Demonologists" by Ed and Lorraine Warren
BONUS QUESTION (just for silliness' sake!)
 If you could have a spooky Halloween pet (black cat, owl, bat, rat, wolf), which would you pick out of the five choices? … A cat of course – I love cats!

***
Thanks for visiting! Peace ☮️
© 2021 BS